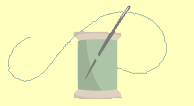 For more information on availability please click on Class Timetable tab.
​
For ongoing courses click on
Class Details tab for class dates.
​
To reserve a place on any of the 2022
classes click on Book or Contact tab.
Christmas Placemats/Table Runner
Full day class – £48.50
Christmas Workshop 3 ref 101/2016 Thursday 24th November 2016 9.30am to 4.00pm
​
Christmas Workshop 4 ref 102/2016 Friday 2nd December 2016 9.30am to 4.00pm
These quick and easy methods make simple but effective Tablerunners, Centrepieces or Table mats. You can choose to make them in colours to co-ordinate with your room or crockery or go for bright reds and greens for a Christmas party piece.
Please see FAQ for commonly asked questions such as "what do I need to bring to class?"