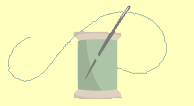 For more information on availability please click on Class Timetable tab.
​
For ongoing courses click on
Class Details tab for class dates.
​
To reserve a place on any of the 2022
classes click on Book or Contact tab.
English Paper Piecing, Embroidery or Crochet
​
There are times when it's good to take a slower pace and these three handicraft disciplines provide the perfect opportunity to do so. Ideal for taking on holidays and especially nice to do in the colder months when you can curl up in front of the TV with a nice hot drink and stitch contentedly away.
​
All levels of experience are welcome as you can learn the basics as a beginner or improve your existing skills as you work on your own project in pleasant company.
​
Right and Left-handed people are accommodated and there is an existing cohort of students working across all of these areas who would love to welcome you to the group.
​
Choose to join for either a Full day or a Half-day to suit your lifestyle and because it is an ongoing class you can choose to join at any time. For more information on each craft see below
​
Full day 9.30am to 3.30pm £52.00 per month
Morning 9.30am to 12.00pm £32.00 per month
Afternoon 1.00pm to 3.30pm £32.00 per month
Ref 273/2021
Starting Friday 8th October 2021
Course dates for 2021: 08/10/21, 05/11/21, 03/12/21
Course dates for 2022: 14/01/22, 04/02/22, 04/03/22 further dates tbc
English Paper Piecing
​
English Paper Piecing – often now referred to as slow stitching - is undergoing a huge revival as people embrace the ideas of Community spirit, Personal mindfulness, and the desire to use up that fabric stash! This craft gives you a perfect opportunity to make a little bit of time, just for yourself, to relax and reflect in the midst of your busy lives.
So, what is Slow Stitching? It's about stitching a slow sewing project by hand. It's about taking the time to pause and reflect on what you're sewing and enjoy the moment.
There are many EPP projects available such as these from the Cotton Patch - Celestial Star, HexPlosion, Ripple Effect medallion and Tula's Bloomers.
By choosing a project that has a paper pieces pack to accompany the book or pattern you will be able to simply relax and enjoy the stitching. However, if you wish to make your own paper pieces from the pattern or book then that is your choice.

Each month I will be on hand to give advice on fabric choices, stitching order and of course to share some handy tips.

Hand Embroidery
​
Embroidery in various forms has existed as long as man has been able to produce fabric. Today embroidery is practised all over the world, but it is believed that it has its origin in China and the Near East. The word embroidery comes from the French word broderie meaning embellishment.
​
Whether you choose to make a simple embroidery sampler, a cross stitch picture or a more intricate project you will find help and inspiration in this group. Beginners will start with a simple running stitch and then embark on a journey through chain, Herringbone and Tete de Beouf stitches, as well as the ever popular, Cross Stitch and Blackwork.

More experienced embroiderers will find plenty of projects to inspire them from Rosalie Dekker, Lynette Anderson, Hares Nest, Gail Pan, Annie Morris, Un Chat Dans L'aiguille and many more at Poppy Patch
​
Each month I will be on hand to give advice on thread choices, new stitches and of course to share some handy tips.

Please see FAQ for commonly asked questions such as "what do I need to bring to class?"
Crochet
​This is a traditional pastime that is seeing a resurgence in popularity. You need very little equipment and if you choose to use budget yarns the outlay can be quite small. Beginners will learn the fundamental basics of crochet including, how to read a pattern, make chain, double, treble and slip stitches and make a Traditional Granny Square.
Improvers can work on their own project in the knowledge that I will be on hand to give advice on thread choices, new stitches and of course to share some handy tips.
​
Once you have mastered the granny square, you will be able to make blankets, shawls, scarves, tablecloths and even waistcoats!
Previous Classes
Introduction to Crochet Course - ​Ref 234/2021
Started Friday 14th May 2021 9.30am or 12.00pm
Course dates for 2021: 14/05/21, 11/06/21, 16/07/21, 06/08/21
​
Hand Embroidery - Ref 249/2021
Started Friday 14th May 2021 1.00pm to 3.30pm
Course Dates: 14/05/21, 11/06/21, 16/07/21, 06/08/21, 27/08/21