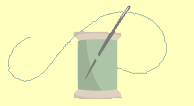 For more information on availability please click on Class Timetable tab.
​
For ongoing courses click on
Class Details tab for class dates.
​
To reserve a place on any of the 2022
classes click on Book or Contact tab.
Foxley Village BOM - by Natalie Bird of The Birdhouse
Tutor - Denise Geach
One Day a month for 10 months
Cost £55 joining fee followed by £52 per month.
Joining Fee includes patterns and Invisafil thread by Wonderfil
​
Ref 287/2022 - fully booked
Starts Friday 17th June 2022 9.30am to 3.30pm
Course Dates: 17/06/22, 08/07/22, 12/08/22, 16/09/22, 14/10/22,
11/11/22, 09/12/22, 13/01/23, 10/02/23, 10/03/23,
​
Foxley Village is a cosy place for friends to gather, neighbours to lend a hand, and for time to gather at the local café. This quilt contains an eclectic mix of pieced blocks and charming applique with a lattice work border to set the scene. Ideal for using up smaller pieces of fabric
​
Experience Level - Advanced - This course is suitable for anyone who has completed various classes or has a good working Knowledge of Patchwork and Quilting
Please see FAQ for commonly asked questions such as "what do I need to bring to class?"