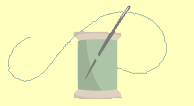 For more information on availability please click on Class Timetable tab.
​
For ongoing courses click on
Class Details tab for class dates.
​
To reserve a place on any of the 2022
classes click on Book or Contact tab.
Mini Tuffet Class
Full Day Class - £65
includes Mini Tuffet Kit
No current class dates available
​
Little Miss Muffet sat on a tuffet ...
These cute pincushions are quick to make and will brighten up any sewing table.
Filled with walnut shells it will even keep your pins and needles sharp too.
​
​
Please see FAQ for commonly asked questions such as "what do I need to bring to class?"