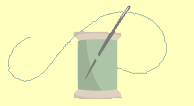 For more information on availability please click on Class Timetable tab.
​
For ongoing courses click on
Class Details tab for class dates.
​
To reserve a place on any of the 2022
classes click on Book or Contact tab.
Moonglow Quilt by Jinny Beyer
4 Full Days, One day per quarter
Tutor - Denise Geach
Joining Fee £30 followed by £52 per quarter
Joining Fee includes full pattern set
​
Ref 295/2022 - fully booked - waiting list open for future dates
Starting Monday 15th August 2022 9.30am to 3.30pm
Course dates 15.08.22, 28.11.22, 20.02.23, 22.05.23
​
Finished size 86'' x 86''
This Jinny Beyer block-of-the-month quilt has been designed to teach a variety of skills such as are rotary cutting, strip piecing, foundation piecing, joining four corners, joining eight corners, paper piecing, setting in, working with curves, applique and more.
Each of the compasses is named after the seas of the moon and the shading of the 27 fabrics in different shades of blues, purples, and greens colours produces a "moon glow" that gives the quilt a rich quality.
Classes are held once a quarter with the emphasis on support and guidance as you progress so you should have a good level of experience before undertaking this quilt.
Help with selecting fabrics will also be available and further details will be provided to those booked on the course.
​
Experience Level - Experienced - This course is suitable for anyone who has attended a variety of classes and courses and is able to work on their own when appropriate
Please see FAQ for commonly asked questions such as "what do I need to bring to class?"