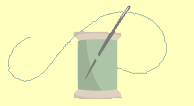 For more information on availability please click on Class Timetable tab.
​
For ongoing courses click on
Class Details tab for class dates.
​
To reserve a place on any of the 2022
classes click on Book or Contact tab.
Sign up to receive my email newsletters here
​
This is the best place to find out about upcoming new classes and events held at the Cadet Training Centre. You will also get information about local quilt exhibitions, shows and groups to inspire you. If you know of something that you would like to have included in the next newsletter please email me the details for consideration.
​
Fill in your details below to sign up and click 'Submit' ..