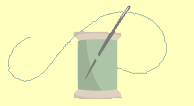 For more information on availability please click on Class Timetable tab.
​
For ongoing courses click on
Class Details tab for class dates.
​
To reserve a place on any of the 2022
classes click on Book or Contact tab.
A Kitten's Tale Block of the Month
This course will not run again
Ref 009/2015 -

ALREADY STARTED
Started Thursday 16th April 2015 from 1.30pm to 4.30pm
Course Dates: 16/04/15, 14/05/15, 18/06/15, 16/07/15, 20/08/15, 17/09/15, 15/10/15, 19/11/15, 17/12/15
Lynette Anderson was inspired to design this quilt by the crazy antics her family pets, Hugo the dog and Fatcat, Freckle and Felix the cats, get up to daily.
This quilt is a delight to make with its combination of appliqué, simple piecing, stitchery and the fabulously fun yoyo's. I know you will enjoy making it too.
Approximate size of the finished quilt is 54" x 62"
Please see FAQ for commonly asked questions such as "what do I need to bring to class?"