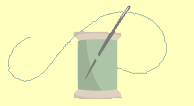 For more information on availability please click on Class Timetable tab.
​
For ongoing courses click on
Class Details tab for class dates.
​
To reserve a place on any of the 2022
classes click on Book or Contact tab.
Armchair Comforts
Full Day Class £52
Ref 292/2022
Friday 29th July 2022 9.30am to 3.30pm
​
Are you guilty of sticking pins and needles in the arm of your chair? Do you lose bits and bobs down the side of your cushions? Do your scissors disappear under your legs? Making this small but very practical armchair caddy and clamshell case can solve this. Easy to make in a day using offcuts of fabric so no need to take a trip to the quilt shop – unless you really want to!!
​
Experience Level - Novice - This course is suitable for anyone who has completed my introduction to P&Q course or has similar knowledge.
Please see FAQ for commonly asked questions such as "what do I need to bring to class?"