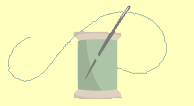 For more information on availability please click on Class Timetable tab.
​
For ongoing courses click on
Class Details tab for class dates.
​
To reserve a place on any of the 2022
classes click on Book or Contact tab.
Christmas Apron Workshop
Full day class – £48.50
Christmas Workshop 3 ref 101/2016 Thursday 24th November 2016 9.30am to 4.00pm
​
Christmas Workshop 4 ref 102/2016 Friday 2nd December 2016 9.30am to 4.00pm
Use a charm pack as the base for this cute apron that sits on point. Two sizes to choose from – one for adults and one for children. Don't want to use it to cook in? No problem simply pop it on to impress as you serve up!!
Please see FAQ for commonly asked questions such as "what do I need to bring to class?"