Coronavirus update 3rd July 2021
In line with current Covid 19 guidance, classes have now started. Social distancing and face coverings are still a encouraged.
​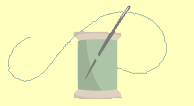 For more information on availability please click on Class Timetable tab.
​
For ongoing courses click on
Class Details tab for class dates.
​
To reserve a place on any of the 2021 classes click on Book or Contact tab.
Christmas Project Classes
This year I am again offering 2 tailor made workshops.
You simply choose the best date for you and then choose the item that you would like to make.
All workshops are £52
​
Ref 267/2021 Thursday 4th Nov 2021 - fully booked
Ref 268/2021 Monday 15th Nov 2021 - fully booked
Ref 269/2021 Thursday 2nd December 2021
9.30am to 3.30pm
​
Available Projects ..
​
Ultimate Gift Wrap **NEW**
Christmas Tree Skirt - 2 sizes
Patchwork Cats and Dogs
Christmas Stocking
Cathedral Window Place Setting
Braided Table Runner
Advent Calendar (buy your own panel)