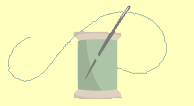 For more information on availability please click on Class Timetable tab.
​
For ongoing courses click on
Class Details tab for class dates.
​
To reserve a place on any of the 2022
classes click on Book or Contact tab.
Christmas Scene Table Mats
by Richard Cook - Tutor
Full Day Class - £52
​
Ref 294/2022
Monday 1st August 2022 9.30am to 3.30pm
It's never too early to start making for the Christmas season so that you can sit back, relax and enjoy your projects.
Using bonded raw edge applique and free motion stitching gives these delightful Christmas scenes a cheery warmth and depth. Choose from various options to make your own design with ease.
Please see FAQ for commonly asked questions such as "what do I need to bring to class?"
​
Want to make it large? No problem, make a centrepiece for your Christmas table. There will even be enough scraps leftover to make a coaster or two if you'd like to.