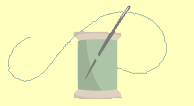 For more information on availability please click on Class Timetable tab.
​
For ongoing courses click on
Class Details tab for class dates.
​
To reserve a place on any of the 2022
classes click on Book or Contact tab.
Design your Own Quilt - and more!
Full day a month for 9 months
£25 joining fee and then £52 per month.
​
Ref 252/2021
Starting Friday 7th May 2021 9.30am to 3.30pm
Course Dates:07/05/21, 04/06/21, 02/07/21, 30/07/21, 03/09/21, 01/10/21
12/11/21, 10/12/21, 07/01/22,
Extra dates: 11/02/22, 13/03/22, 08/04/22, 13/05/22
​
While it's great to pick up a pattern and follow the instructions there are times when you want to design your own quilt or project. This course will give you the information and techniques you need to do just that.
The course will inspire you to think about the importance of inspiration, research and a fusion of sewing techniques to make your own unique designs. You will be encouraged to sample and apply your designs to practical items such as bags, cushions and of course quilts as well as more decorative items such as wall hangings, clothing and postcards. The choice will be yours
Please see FAQ for commonly asked questions such as "what do I need to bring to class?"