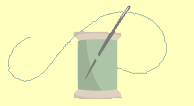 For more information on availability please click on Class Timetable tab.
​
For ongoing courses click on
Class Details tab for class dates.
​
To reserve a place on any of the 2022
classes click on Book or Contact tab.
Folded Star Bag
2 Half Day Classes - £55
Ref 188/2019
Friday 1st Feb and 1st March 2019 from 9.30am to 12.30pm
​
You must be able to attend on both of these dates to book this course
These simply constructed bags are an ideal project to stitch by hand or machine. Learn how to make each folded patchwork piece as a separate unit before combining into a fully quilted and lined bag. Let the fabric be the star by choosing sumptuous colours with a strong contrast. Making more is easy as you can assemble the units during a spare five minutes each day.
Please see FAQ for commonly asked questions such as "what do I need to bring to class?"
Click on the button below to see what others have made on the course