Coronavirus update 3rd July 2021
In line with current Covid 19 guidance, classes have now started. Social distancing and face coverings are still a encouraged.
​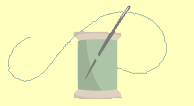 For more information on availability please click on Class Timetable tab.
​
For ongoing courses click on
Class Details tab for class dates.
​
To reserve a place on any of the 2021 classes click on Book or Contact tab.
Introduction to Foundation Piecing
Tutor - Denise Geach
Full Day Class - £52
Ref 277/2022
Thursday 21st April 2022 9.30am to 3.30pm
​
Ref 279/2022
Friday 16th September 2022 9.30am to 3.30pm
​
Foundation piecing allows you to construct complicated patterns easily and accurately. It is also a very good way to use up small scraps of fabric.

In this workshop you will make a number of different sized blocks suitable to include in greetings cards, a larger project such as a bag or quilt or simply to keep as samples.

Please see FAQ for commonly asked questions such as "what do I need to bring to class?"
Click on the button below to see what others have made on the course