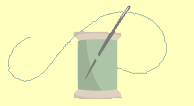 For more information on availability please click on Class Timetable tab.
​
For ongoing courses click on
Class Details tab for class dates.
​
To reserve a place on any of the 2022
classes click on Book or Contact tab.
Indigo Splash Block of the Month
One day a month for 9 months
Joining Fee £275 then £55 per month
​
Ref 298/2023
Starting Thursday 16th February 2023 from 9.30am to 3.30pm
Course Dates: 16/02/23, 16/03/23 20/04/23, 18/05/23, 15/06/23,
20/07/23, 17/08/23, 19/10/23, 16/11/23
​
​
This 9-month course comes with a fabric kit featuring Wilmington Prints 'Indigo Splash' fabric by Dina June and full colour pattern sheets. This eye-catching quilt, cleverly constructed from six block designs contains all the fabrics for the quilt top and binding plus instructions
Just add wadding and backing fabric and you're all set to start this 96" square quilt that would look great in any home. !
​
Experience Level - Intermediate - This course is suitable for anyone who has completed at least one block of the month programme and/or made a full-size quilt.
Please see FAQ for commonly asked questions such as "what do I need to bring to class?"