Coronavirus update 4th April 2021
In line with current Covid 19 guidance, classes will be restarting in May 2021. Social distancing and face coverings will be required. For more information on availability please click on the Class Timetable tab.
​
For ongoing courses click on the Class Details tab to view revised class dates.
​
To reserve a place on any of the 2021 classes click on the Book or Contact tab.
​
​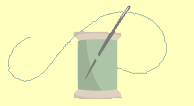 Introduction to Hand and Machine Applique
Full Day Class

- £52.00
​
Ref 254/2021
Thursday 20th May 2021 9.30am to 3.30pm
​
A purely skills based workshop giving you the opportunity to try out different applique techniques so that you can find the one that feels right for you. Using both hand and machine applique methods you will build a sampler covering prepared edge, raw edge and bonded applique. You'll be able to refer to this again and again as you move onto new projects.
Click on the button below to see what others have made on the course
Please see FAQ for commonly asked questions such as "what do I need to bring to class?"