Coronavirus update 4th April 2021
In line with current Covid 19 guidance, classes will be restarting in May 2021. Social distancing and face coverings will be required. For more information on availability please click on the Class Timetable tab.
​
For ongoing courses click on the Class Details tab to view revised class dates.
​
To reserve a place on any of the 2021 classes click on the Book or Contact tab.
​
​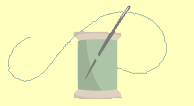 Introduction to Hand Embroidery
Half a day a month for 13 months
Joining fee £35 then £32 per month
Includes Book, Linen fabric and Aida
​
Ref 249/2021 follow on course £32 per month - £15 joining fee
1.00pm to 3.30pm
Course Dates: 14/05/21, 11/06/21, 16/07/21, 06/08/21, 27/08/21
​
On this course you will create your own traditional sampler using a variety of hand embroidered stitches. Starting with a simple running stitch you will take a journey through chain, Herringbone and Tete de Beouf stitches, as well as the ever popular, Cross Stitch and Blackwork.
Quilting techniques like Crazy Patchwork, Broderie Perse and Shadow Applique can all be greatly enhanced by the addition of hand embroidery so a worthy addition to your skill set.
This course is suitable for complete beginners and improvers so don't delay – join up today!
​
Please see FAQ for commonly asked questions such as "what do I need to bring to class?"