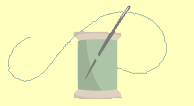 For more information on availability please click on Class Timetable tab.
​
For ongoing courses click on
Class Details tab for class dates.
​
To reserve a place on any of the 2022
classes click on Book or Contact tab.
Introduction to Westalee Rulers
Tutor - Denise Geach
Full Day Class - £52
​
Ref 281/2021
Thursday 16th December 2021 9.30am to 3.30pm
​
Please note: You can only book this class if you have already have the appropriate Westalee Ruler Foot Starter Set and an extension table for your machine
​
Westalee Rulers can help to transform your Free Motion Quilting by enabling you to undertake free motion quilting in a controlled way on your domestic sewing machine. Using the rulers will help you to stitch a large range of beautiful patterns and designs to complement your quilts.
I know that using a new product can be a bit intimidating, so this class is designed to help you get the most from your Westalee Rulers by providing plenty of hands on advice, guidance, and encouragement.
The class will cover the following basic elements and you will make at least two sample blocks to showcase the skills learnt on the day:
Attaching foot correctly, adjusting height, set up machine for FMQ

Discuss threads, needles, and tension

How to hold and use the standard ruler

Using ruler markings and general fabric marking techniques

Make sample blocks – one using straight line cross hatching the other using curved cross hatching

Provide information about additional rulers

Specific Requirements:
Appropriate foot set and extension table for your machine

A minimum of 2 quilt sandwiches approximately 12'' square for general practice work. Calico or similar is fine

A minimum of 2 quilt sandwiches approximately 10'' square for sample blocks – I suggest good quality plain cotton fabric

Good quality thread
Optional extras
Quilt gloves such as Machingers

Slider or Glider for your machine
Click on the button below to see what others have made on the course
Please see FAQ for commonly asked questions such as "what do I need to bring to class?"