Coronavirus update 3rd July 2021
In line with current Covid 19 guidance, classes have now started. Social distancing and face coverings are still a encouraged.
​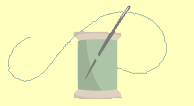 For more information on availability please click on Class Timetable tab.
​
For ongoing courses click on
Class Details tab for class dates.
​
To reserve a place on any of the 2021 classes click on Book or Contact tab.
Introduction to Free Motion Quilting
- Tutor Denise Geach
Full Day Class - £52
​
Ref 276/2022 - fully booked
Monday 24th February 2022 9.30am to 3.30pm
Ref 278/2022
Thursday 21st July 2022 9.30am to 3.30pm
​
​Learn the basics skills required for successful Free Motion quilting on this interactive day. You will learn how to prepare your machine and fabric as well as understanding various quilting designs. The focus is on practice and you will have the opportunity to try out your ideas in a supportive setting.
​
Please see FAQ for commonly asked questions such as "what do I need to bring to class?"
Click on the button below to see what others have made on the course