Coronavirus update 4th April 2021
In line with current Covid 19 guidance, classes will be restarting in May 2021. Social distancing and face coverings will be required. For more information on availability please click on the Class Timetable tab.
​
For ongoing courses click on the Class Details tab to view revised class dates.
​
To reserve a place on any of the 2021 classes click on the Book or Contact tab.
​
​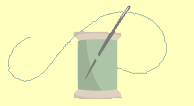 Just Sew Group
One Day a month for 4 months
Joining fee £15 then £35 per month
​
Ref 201/2019
Starts Friday 12th April 2019 from 9.30am to 3.30pm
Course Dates: 12/04/19, 10/05/19, 14/06/19, 12/07/19
​
By popular demand the Just Sew Group has been designed for people who have more projects than they know what to do with. This is an informal sewing group for more experienced patchworkers, with no formal tuition included.
Bring along your homework, a new project or UFOs (unfinished objects) and make use of the centre's facilities whilst in the company of fellow patchworkers who can lend a hand with advice and encouragement.
​
There are limited spaces available for this initial set of 4 classes, so booking is required.
​
​
Please see FAQ for commonly asked questions such as "what do I need to bring to class?"