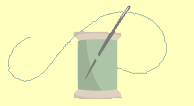 For more information on availability please click on Class Timetable tab.
​
For ongoing courses click on
Class Details tab for class dates.
​
To reserve a place on any of the 2022
classes click on Book or Contact tab.
Knot as you Go BOM
​
One day a month for 6 months
£35 joining fee and then £52 per month
Joining Fee includes a signed copy of Sew Easy Celtic book by Angela Madden
​
Ref 290/2022
Started Thursday 14th July 2022 9.30am to 3.30pm
Course Dates: 14/07/22, 11/08/22, 08/09/2022, 13/10/22, 10/11/22, 08/12/2022
​
Finished size 76'' x 94'' or choose to go smaller
​
This short course combines the beauty of Celtic Knot Work with the practicality of fusible bias tapes and machine or hand quilting as you go. You will have the opportunity to design your own knot as well as an option to make the quilt top in one piece ready for machine quilting for those who prefer that method.
​
Experience Level - Novice - This course is suitable for anyone who has completed my introduction to P&Q course or has similar knowledge.
Please see FAQ for commonly asked questions such as "what do I need to bring to class?"