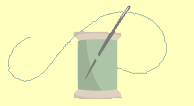 For more information on availability please click on Class Timetable tab.
​
For ongoing courses click on
Class Details tab for class dates.
​
To reserve a place on any of the 2022
classes click on Book or Contact tab.
Machine Secrets
4 Full Class Days. One every 3 months
Joining Fee £15 plus £52 per quarter
​
Ref 291/2022 - - fully booked, waiting list available for future dates
Starts Monday 15th August 2022 from 9.30am to 3.30pm
Course Dates: 15.08.22, 28.11.22, 20.02.23, 22.05.23
​
Do you know what your sewing machine is capable of? Do you want to unravel the mysteries of all those feet and stitches that you never use? Learn how to use your sewing machine to its full potential by making your own fabric reference book. The emphasis is on understanding what your machine can do by choosing different feet, stitches, or techniques. By adding personalised annotations this practical fabric book will be on hand to remind you for years to come.
​
Experience Level - Beginner - This course is suitable for complete beginners or new starters.
Please see FAQ for commonly asked questions such as "what do I need to bring to class?"