Coronavirus update 4th April 2021
In line with current Covid 19 guidance, classes will be restarting in May 2021. Social distancing and face coverings will be required. For more information on availability please click on the Class Timetable tab.
​
For ongoing courses click on the Class Details tab to view revised class dates.
​
To reserve a place on any of the 2021 classes click on the Book or Contact tab.
​
​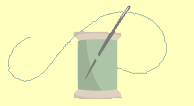 Magic Cushion - Quillow
Two half day classes - £55
Ref 166/2018
Friday 5th Oct and 2nd Nov 2018 from 1.30pm to 4.30pm
​
You must be able to attend on both of these dates to book this course
You can see from the diagram that the quilt folds up and tucks away neatly into a cushion. You have a choice of 3 different block patterns for the cushion front and they are so versatile you might end up making more than one!
Suitable for both adults and children a Quillow can be kept on a settee, in the car, in a caravan or in fact anywhere it's needed.
Please see FAQ for commonly asked questions such as "what do I need to bring to class?"
Click on the button below to see what others made on the course