Coronavirus update 4th April 2021
In line with current Covid 19 guidance, classes will be restarting in May 2021. Social distancing and face coverings will be required. For more information on availability please click on the Class Timetable tab.
​
For ongoing courses click on the Class Details tab to view revised class dates.
​
To reserve a place on any of the 2021 classes click on the Book or Contact tab.
​
​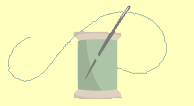 This page includes some of the older videos on the Sewing Quarter youTube channel
In January 2017 I was asked to join the team of guest designers on the Sewing Quarter TV tutorial and shopping channel.
Below are links to my appearances to date, which will give you a chance to see me in action before booking on one of my classes or courses.
Click on the image to be directed directly to the YouTube video.
Wednesday 24th May 2017 : Seaside Quilts Book - Ist hour
Flower Blocks Book - 3rd hour (2:00 - 2:59)
Sunday 23rd April 2017 : Table runners - Ist hour
Picnicware - 3rd hour (2:00 - 2:59)
Wednesday 12th April 2017 : Rachel's Mini Quilt Kit - First hour
Tips, Tools and Techniques 3rd hour (2:00 - 2:59)
Sunday 26th Feb 2017 : Quilt Block Folder - First hour
Tidy Baskets - 3rd hour (2:00 - 2:59)
Sunday 28th May 2017 : Fair Square Quilt as you Go - Ist hour
Creative Grids Rulers - 3rd hour (2:00 - 2:59)
Monday 1st May 2017 : Tula Pink Jelly Roll Quilts - Ist hour
Applique letters and numbers - 3rd hour (2:00 - 2:59)
Sunday 16th April 2017 : Quick blocks - Ist hour
Quilt as you Go - 3rd hour (2:00 - 2:59)
Sunday 26th March 2017 : All about rotary cutting 2nd (1:00 - 1:59) and 4th hour (3:00 - 3:59)
Wednesday 15th Feb 2017 : Rachels of Greenfield kits - 1st hour
Quilting and Applique - 3rd hour (2:00 - 2:59)