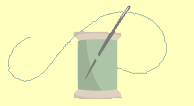 For more information on availability please click on Class Timetable tab.
​
For ongoing courses click on
Class Details tab for class dates.
​
To reserve a place on any of the 2022
classes click on Book or Contact tab.
Play Mat / Quilt
Two Half day classes - £55
No current date available
​
You must be able to attend on both of these dates to book this course
​
Childs Play Mat/Toy Tidy or Quilt
​
Make a charming Play Mat or Quilt for that special little one in your life. Select from 3 different designs and add your own choice of fabrics to get the right combination. You can even choose to add hidden handles so that it's easy to gather up toys and store them away when play time is over. (Not recommended for very small children without supervision).
​
Using bold applique characters, quick piecing and simple quilting lines makes this the sort of project that you will return to again and again. Choose from a range of Cute Pets featuring Clara Cat and Daisy Dog, Sail the Sea with Bertie Boat to look for Davey Dolphin or help Lancelot Lion find Rodney Rhino in the Zoo. On the Farm theme now available too with Cornelia Cow, Percival Pig and Sheila Sheep!

​
Please see FAQ for commonly asked questions such as "what do I need to bring to class?"
Click on the button below to see what others have made on the course