Coronavirus update 4th April 2021
In line with current Covid 19 guidance, classes will be restarting in May 2021. Social distancing and face coverings will be required. For more information on availability please click on the Class Timetable tab.
​
For ongoing courses click on the Class Details tab to view revised class dates.
​
To reserve a place on any of the 2021 classes click on the Book or Contact tab.
​
​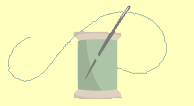 Basting your quilt
If you need more space to set out and baste your quilt the centre has plenty of suitable large tables. No more worrying about scratching the dining table, scrabbling around on the floor or having to tidy up halfway through because a visitor has arrived! You can even enjoy a cup of tea and a biscuit when you need a break!
Sessions are informal and cost £25 for half a day or £45 for a full day. There are places available most weeks and you can book at short notice if you need to. For more information, available dates and to book please email me at or call 0121 474 5968 or 07881 948834