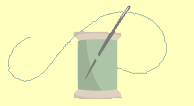 For more information on availability please click on Class Timetable tab.
​
For ongoing courses click on
Class Details tab for class dates.
​
To reserve a place on any of the 2022
classes click on Book or Contact tab.
Quilt Block Folder
Full Day Class - £48.50
No current dates available
Inspired by one of my students I have designed this folder for you to keep and carry your quilt blocks in. It is Ideal for bringing to classes as it helps to keep your work neat and in order - especially when doing block of the month programmes. But be warned - Once you have made one you'll want to make a set in different sizes to suit every occasion!
Please see FAQ for commonly asked questions such as "what do I need to bring to class?"
Click on the button below to see what others have made on the course