Coronavirus update 4th April 2021
In line with current Covid 19 guidance, classes will be restarting in May 2021. Social distancing and face coverings will be required. For more information on availability please click on the Class Timetable tab.
​
For ongoing courses click on the Class Details tab to view revised class dates.
​
To reserve a place on any of the 2021 classes click on the Book or Contact tab.
​
​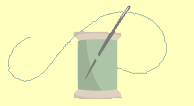 Super Saturday
Saturday class spaces are always at a premium so these occasional days are designed to cover a range of topics.
NEW - Super Saturdays – Full day Class - £47.50
No dates currently available
Book on one of these dates and then choose between the following day classes:
· Christmas Table Mats
· Christmas Stocking
· Christmas Apron
· Triangle Square bag
· Folded Hexagon Bag
Book both dates and choose two classes – it's as simple as that!