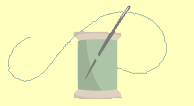 For more information on availability please click on Class Timetable tab.
​
For ongoing courses click on
Class Details tab for class dates.
​
To reserve a place on any of the 2022
classes click on Book or Contact tab.
Please see FAQ for commonly asked questions such as "what do I need to bring to class?"
Tea Party BOM
One Day a month for 12 months
Joining fee option one - £75 includes Pattern, Sew Kind of Wonderful Quick Curve Ruler and Felt bundle
Joining fee option two - £102.50 includes Pattern, Sew Kind of Wonderful Quick Curve Ruler, Felt Bundle and Two Karen Kay Buckley Perfect Circle sets
- followed by £52 per month for 12 months
​
Ref 275/2022 - fully booked
Started Monday 31st January 2022 from 9.30am to 3.30pm
Course Dates: 31.01.22, 28.02.22, 28.03.22, 23.05.22, 27.06.22, 25.07.22
22.08.22, 26.09.22, 31.10.22, 21.11.22, 23.01.23, 27.02.23
Lovely and bright to cheer up those grey winter months this quilt contains many elements including a special quick curve ruler, curved piecing, circular applique and even some stitchery. Perfect for using some of those lovely odds and ends from your stash or maybe you'll want splash out on some lovely new fabrics? Why not add your favourite fabric range to your Christmas wish list and leave it where Santa can see!!
​
Experience Level - Advanced - This course is suitable for anyone who has completed various classes or has a good working Knowledge of Patchwork and Quilting