Coronavirus update 4th April 2021
In line with current Covid 19 guidance, classes will be restarting in May 2021. Social distancing and face coverings will be required. For more information on availability please click on the Class Timetable tab.
​
For ongoing courses click on the Class Details tab to view revised class dates.
​
To reserve a place on any of the 2021 classes click on the Book or Contact tab.
​
​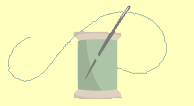 Zippered Pouch
One Full Day Class - £52 includes zip
​
No current dates available
​
Don't shy away from using zips! These handy pouches are a quick maker, and you will be amazed at how easy it is to sew in the zip.
They are a great way to use up fabric and wadding offcuts and once you've mastered the first one, you'll soon be 'zipping' them up for friends and family in a variety of sizes
Please see FAQ for commonly asked questions such as "what do I need to bring to class?"