Coronavirus update 3rd July 2021
In line with current Covid 19 guidance, classes have now started. Social distancing and face coverings are still a encouraged.
​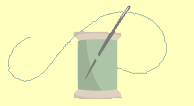 For more information on availability please click on Class Timetable tab.
​
For ongoing courses click on
Class Details tab for class dates.
​
To reserve a place on any of the 2021 classes click on Book or Contact tab.
Full day workshop.
Quilted as you go and fully lined this bag is flexible for carrying both large and small items.
Full day workshop.
An ideal on-the-go project to stitch by hand or machine.
Click on the button below to see what others have made on the course