Coronavirus update 4th April 2021
In line with current Covid 19 guidance, classes will be restarting in May 2021. Social distancing and face coverings will be required. For more information on availability please click on the Class Timetable tab.
​
For ongoing courses click on the Class Details tab to view revised class dates.
​
To reserve a place on any of the 2021 classes click on the Book or Contact tab.
​
​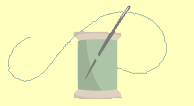 Gossip in the Garden Quilt BOM
Half a day a month for 10 months
£47.50 joining fee and £32 per month.
​
No current dates available
​
Designed by Anni Downs of Hatched & Patched this quilt features quintessential English images such as baskets of flowers, hexagons and cups of tea in the garden. A perfect way for the gardeners amongst you to blend your two passions into one and there's even some cute sayings to stitch to enhance your quilt!.
​
To make this quilt you will use a variety of techniques that will showcase your skills for generations to come.
​
Finished Quilt size 68 1/2" x 701/2"
Please see FAQ for commonly asked questions such as "what do I need to bring to class?"
Click on the button below to see what others have made on the course