Coronavirus update 4th April 2021
In line with current Covid 19 guidance, classes will be restarting in May 2021. Social distancing and face coverings will be required. For more information on availability please click on the Class Timetable tab.
​
For ongoing courses click on the Class Details tab to view revised class dates.
​
To reserve a place on any of the 2021 classes click on the Book or Contact tab.
​
​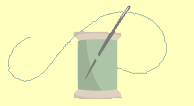 Picture Perfect Quilt
2 Full Days £110
Ref 264/2022 (you must be able to attend both classes)
Thurs 17th February 2022 9.30am to 3.30pm
Thurs 17th March 2022 9.30am to 3.30pm
​
There have always been lots of beautiful fabric panels in the shops but knowing what to do with them can be tricky. Digital screen printing on fabric has now added to this conundrum as just about any image you desire is now available.
Unfortunately, they are often bought because they are beautiful but then left to languish on the shelf. After all, cutting them up into smaller pieces could be classed as a criminal act!
This quilt therefore, has been specifically designed to showcase any fabric panel of your choice. Using simple cutting and assembly techniques you'll make this stunning quilt in next to no time.
Please see FAQ for commonly asked questions such as "what do I need to bring to class?"