Coronavirus update 4th April 2021
In line with current Covid 19 guidance, classes will be restarting in May 2021. Social distancing and face coverings will be required. For more information on availability please click on the Class Timetable tab.
​
For ongoing courses click on the Class Details tab to view revised class dates.
​
To reserve a place on any of the 2021 classes click on the Book or Contact tab.
​
​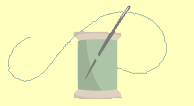 Ultimate Gift Wrap
1 Full Day Classes - £52
​
Ref 266/2021
Thursday 30th September 2021 9.30am to 3.30pm
​
**Special Offer** Book before 31st July 2021 to be in with a chance receiving a £10 refund. The lucky recipient will be drawn at random and notified in class
Furoshiki is a traditional Japanese method of using wrapping cloths to wrap goods and gifts and is a great way to avoid reams of paper going to waste. I wanted to emulate this method to help protect our environment with a reusable, ecofriendly and sustainable method of wrapping gifts.
The Ultimate Gift Wrap is the result and can be used many times. Whether it's made for a Christmas, Anniversary or Birthday present you can be sure it will be well received.
​
Please see FAQ for commonly asked questions such as "what do I need to bring to class?"
Click on the button below to see what others have made on the course