Coronavirus update 4th April 2021
In line with current Covid 19 guidance, classes will be restarting in May 2021. Social distancing and face coverings will be required. For more information on availability please click on the Class Timetable tab.
​
For ongoing courses click on the Class Details tab to view revised class dates.
​
To reserve a place on any of the 2021 classes click on the Book or Contact tab.
​
​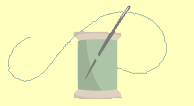 Yazzii Bag Extravaganza
3 Half Day Classes Includes Yazzii Bag and fabric kit
​
No current dates available
​
This course gives you the opportunity to not only own one of these useful bags, but also to personalise it based around a 'Singer' sewing machine design. The course fee includes a bag and fabric kit, but feel free to bring along a few special scraps form your stash to make it a truly unique bag.
I only have a limited number of bags so class places are restricted to a maximum of 12 spaces and although the bags are available in the following colours Red, Navy, Green, Black, Purple and Turquoise I can't guarantee you'll get your first choice.
Colours will therefore be allocated in strict order of booking confirmation being received so act now to get your favourite!! Please state up to three colour choices in order of preference.
Please see FAQ for commonly asked questions such as
"what do I need to bring to class?"