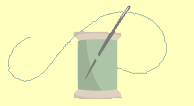 For more information on availability please click on Class Timetable tab.
​
For ongoing courses click on
Class Details tab for class dates.
​
To reserve a place on any of the 2022
classes click on Book or Contact tab.
Free patterns
​
As part of the 10 Year Anniversary celebration I have a few patterns to share with you.
Click on the images to view and download the patterns
Anniversary Embroidery Design
Denise's Flying Geese Temperature Quilt
Knitted Easter Chick Pattern