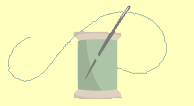 For more information on availability please click on Class Timetable tab.
​
For ongoing courses click on
Class Details tab for class dates.
​
To reserve a place on any of the 2022
classes click on Book or Contact tab.
This class is ideal for those of you who want that little bit of extra help as you complete a project of your own choosing.
Join me at the Cadet Centre if you need more space to lay out and baste your quilt.